Matt 10:1

Jesus kallade till sig sina tolv lärjungar och gav dem makt att driva ut orena andar och att bota alla slags sjukdomar och krämpor.
Matt 10:7-8
Och där ni går fram skall ni predika: Himmelriket är nu här. Bota sjuka, uppväck döda, gör spetälska rena och driv ut onda andar. Det ni har fått som gåva, ge det som gåva.

Lärjungarna hade gått med Jesus och sett hur han gjorde under överallt. Säkerligen var de väldigt fascinerade av allt de fått se och vara med om, men Jesus nöjde sig inte med att de skulle vara åskådare. Han ville att de skulle göra samma under som han själv gjorde.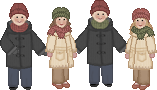 Så han kallade dem till sig och gav dem makt att göra under. Han gav var och en av dem förmåga att få se tecken och under ske. Vi kan läsa i Lukas evangelium, hur oerhört glada lärjungarna var när de kom tillbaka och berättade om allt de fått höra och se:
De sjuttio kom glada tillbaka och berättade: "Herre, till och med de onda andarna lyder oss i ditt namn." Han sade till dem: "Jag såg Satan falla ner från himlen som en blixt. Se, jag har gett er makt att trampa på ormar och skorpioner och att stå emot fiendens hela välde. Ingenting skall någonsin skada er. Men gläd er inte så mycket över att andarna lyder er, som över att era namn är skrivna i himlen." Luk 10:17-20

Det som lärjungarna skulle göra var att driva ut onda andar och bota all slags sjukdomar. De skulle till och med uppväcka döda där de gick fram. De hade blivit betrodda inte bara med samma kraft som Jesus verkade i, men också samma budskap som Jesus predikade, nämligen att himmelriket har kommit! Det är redan här. I himlen finns ingen sjukdom och ingen plåga. Lika lite som Gud vill sjukdom i himlen, vill han sjukdom på jorden, så därför sa han till lärjungarna att predika att himmelriket är här, och sen visa på att det var så, genom att bota de sjuka!

Lärjungarna var först tvungna att ta emot den Helige Andes kraft så de kunde fungera i det övernaturliga innan de skulle gå ut och be för människor. Det kan ju låta självklart, men många försöker be för sjuka utan att ha tagit emot den Helige Ande, och det bli inget resultat. Utan Gud och Hans kraft kan vi inget göra!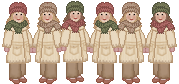 Svenska Folkbibelns översättning